France invented Haute Couture and Paris is arguably the symbol of elegance and luxury. Beyond Paris Region's unrivaled cultural heritage, the Fashion industry is a major contributor to France's GDP - 3.1%, more than the automotive industry - and employment with over 600,000 jobs in this industry. To find more resources, browse our downloadable guides.
Expert
Francesco Travagli
Cosmetics, Fashion & Luxury
Expert
Paris, Capital of Fashion & Luxury 
Historically, Paris Region has always been a major reference for fashion and luxury. Paris Region is home to several Haute Couture Maisons such as Dior, Givenchy, Jean-Paul Gaultier, Chanel, and high-end luxury fashion brands such as Saint-Laurent, Celine, Hermes, Lanvin and Louis Vuitton. In fact, all the major international brands have a flagship store in Paris Region. 
From Fashion and Textile Design to Luxury Brand Management and Fashion Sustainability, Paris Region is home to several leaders in Fashion education attracting students from all over the world, among which Institut Français de la Mode - IFM (French Institute of Fashion), International Fashion Academy - IFA, ESMOD Paris, Studio Bercot, ENSAD (Ecole Nationale Supérieure des Arts Décoratifs), and Ecole Duperré. 
The industry is well structured around organizations dedicated to supporting Fashion designers. 
The Fédération de la Haute Couture et de la Mode seeks to promote French fashion culture, by combining traditional know-how with contemporary technology. It contributes to bolstering Paris in its role as an international fashion capital by coordinating Paris Fashion Week®. Learn More. 
The Fédération Française du Prêt-à-Porter Féminin represents and accelerates the development of companies in the industry. Learn More. 
DEFI is the organization which supports the funding, internationalization and digitization of fashion creation. Learn More. 
The Comité Colbert brings together French luxury houses and several cultural institutions to promote the French art de vivre at an international level. Learn More. 
Paris, Capital of Sustainable Fashion 
10 minutes to understand why Paris Region is the center of sustainable fashion Hear how the region has cultivated a variety of resources - accelerators, events, programming - to build new businesses and help companies meet future regulatory and transformation goals.
Starting in January 2019, Paris has been taking official steps towards increasing sustainability within the fashion industry. The Paris Good Fashion initiative, supported by the city of Paris, aims to make Paris the capital of sustainable fashion by 2024. It is focusing its efforts on circular economy, improving sourcing and traceability, and working on making certain processes more sustainable such as distribution, energy, and communication.  
France's leading fashion groups are also taking measures towards increased sustainability across the board. They are, for example, looking into new ecological materials and responsible sourcing.  
Paris Region-born FashionTech startups are currently exploring new materials and improved processes - INDUO works on smart textile and Tekyn on an on-demand manufacturing platform - while new marketplace such as NONA, Faume and Uptrade are emerging along with sustainable brands like The Ethiquette, Les Recuperables or domestique.
The Fashion industry as a whole, through luxury incubators and industry events is increasingly placing sustainability at the heart of the matter (see below). 
Clusters, Incubators and Accelerators to Support Your Growth in Paris Region 
Look Forward is the incubator of the French online fashion retailer Showroomprive.com. Each year, Look Forward hosts 20 international startups transforming the fashion, retail, and beauty industries, to familiarize them with more responsible practices. Learn More. 
Foundry powered by IFA Paris has a mission of supporting budding entrepreneurs and early stage startups specializing in FashionTech, innovation, sustainability, and future craft. Learn More. 
Located in Station F, La Maison des Startups LVMH welcomes more than 50 startups every year to assist them in the development of synergies with LVMH's 70 Maisons. Learn More. 
ADN_x IFM focuses on FashionTech. The program is operated by the Institut Français de la Mode (French Institute of Fashion) and Creative Valley at Station F. Learn More. 
La Caserne opened in 2021 and is Europe's largest sustainable fashion hub. It includes an accelerator, a coworking space, workshops, a store, a restaurant and a nightclub. It welcomes the French edition of the Conscious Festival.  Learn More. 
Discover more startups programs dedicated to retail on our Retail & E-Commerce page. 
Download our guide to find the right accelerator for your company in Paris Region.
Tailored Incentives for Your Projects 
Companies operating in the textile, clothing and leather industry can benefit from a specific research tax credit called the Collection Tax Credit. This amounts to 30% of the eligible expenditure related to the development of new collections. Learn More. 
IFCIC Fashion Guarantee is a guaranteed loan facilitating banks' commitment to Fashion Companies defined by the DEFI as Young Creative Enterprises (JEC).  
In addition to the bank guarantee, IFCIC has the capacity to lend directly to SMEs through the IFCIC Fashion Loan. This facilitates the financing of the production cycle of creators or the  structural investments such as the structuring of teams, expenses related to the acquisition of new markets or the brand's online presence, etc. Learn More. 
Fashion & Luxury Events in Paris Region 
Paris Fashion Week, Paris, Multiple dates - International week of fashion shows, which takes place every six months with events dedicated to both Haute Couture and to men's/ women's ready-to-wear fashion. Learn More. 
Avantex Paris, Le Bourget, February - First international tradeshow dedicated to innovation in the textile and fashion industries. Learn More. 
Tranoï, Paris, February/March - Leading B2B event establishing connections between high-end retailers and innovative designers. Learn More. 
Who's Next, Paris, September/January – 3 events in 1. Who's Next: Ready-to-Wear, Accessories, Beauty, Lifestyle. Impact: a space dedicated to sustainable fashion. Traffic: innovation and services for Fashion Business. Learn More.
Circular Fashion Summit,Virtual, Oct - Focusing on sustainability and zero waste practices, it includes an Impact Design Hub and an Innovation Hub. Learn More. 
Change NOW, Paris, May - The world's largest event for the planet includes a thematic track about circular economy and sustainable fashion. Learn More. 
In the News
BSPK's Expansion to Paris Region
As a natural hub for startups, where innovation goes hand in hand with talents and youth and an optimistic spirit, expanding to Paris Region was an "obvious choice" for Zornitza Stefanova, founder and CEO of BSPK. Find out more about BSPK's expansion journey in this exclusive interview and read more about Paris Region's rise to fast becoming the "startup capital of Europe".
Read more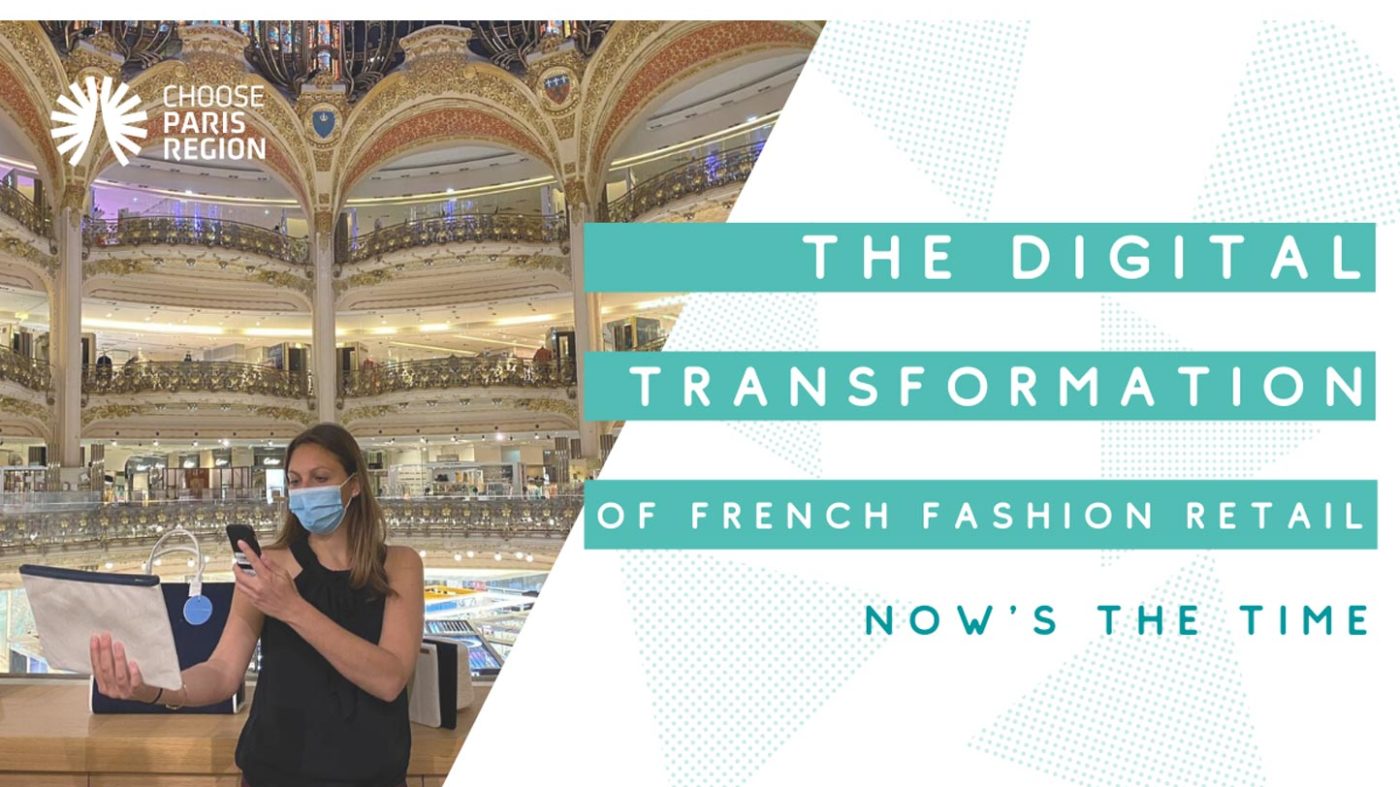 The Digital Transformation of French Fashion Retail: Now is the Time
During the pandemic, the fashion and luxury industries were quick to adapt their productions facilities to provide essential medical equipment and prompt in making donations to healthcare organizations. Yet, store closures led to a fundamental consumer shift to digital. With every aspect of brick-and-mortar retail upended, some fashion companies appeared better positioned than others. If retailers have a lesson to learn from COVID-19, it's the necessity to operate a long-awaited digital transformation. In addition to the implementation of health and safety measures to welcome back customers to their physical locations, French fashion retailers have to adapt to the "New Normal" and rethink their omnichannel customer experience. Within this transformation challenge for brands and retailers lay opportunities for innovative startups in the Paris Region.
Read more