Looking for Top-tier talents in Europe? Choose Paris Region
Paris Region is a land of opportunity with its many projects, partnerships, and business deals. But what makes this ecosystem particularly dynamic is the Region's highly skilled, business-minded, and cosmopolitan talents. They are the reason why international investors are flocking to the Region to recruit their teams.
A Glimpse into Paris Region's Population & Talent Pool
 
A Young and Dynamic Population

With 12.2M residents, Paris Region is Europe's most populous region and is expected to gain more than 250,000 new inhabitants by 2025. The Region is also the European region with the most people between the ages of 25-29 with over half of the current residents under 40 years old. Having such a young crowd around ensures a culture of innovation and creativity is maintained and thriving.
 

World-Class Talent from All Over the World

The Region's 1.7M foreign residents make it a "go to" place for international businesses, entrepreneurs, students, and visitors. The fact that most of them come from Europe, Africa, and Asia means there is a pool of multilingual talents readily available.
With such a cosmopolitan feel, it is no surprise international investors are turning to Paris Region to recruit. They can source technical skills as well as people fluent in multiple foreign languages. Indeed, many business professionals in Paris Region speak at least one foreign language fluently and have already spent time working/studying abroad.  While English is spoken widely, the Region's residents are also skilled in other languages including German, Italian, Spanish, Dutch, Chinese, and Arabic, to name a few.
Technical Skills & Academic Excellence

A Diverse and Skillful Talent Pool

As an innovation epicenter, Paris Region is the #1 European region for workers in R&D, Science, and Technology and is home to 120,000 researchers. As the European Deep Tech leader with one of the world's largest science and technology clusters, Paris Region naturally has a solid infrastructure that encourages research and innovation. The Region has the highest R&D spending in Europe as well as generous R&D tax credits that support key sectors such as automotive, IT, pharmaceutical, and electronics. There is also an array of excellent schools and universities dedicated to developing analytical, data-driven thinking. For instance, Université Paris-Saclay is ranked #1 university in the world for Mathematics and is also a top university for Physics.  

The Most Sought-After Engineers

Paris Region offers a reservoir of highly trained engineers, and this pool will only keep increasing considering the current 45,000 students in the Region's 36 engineering schools. Some noteworthy Science and Engineering schools include the Ecole Normale Supérieure (ENS) and Ecole Polytechnique, which are 2 French "Grandes Écoles," as well as ParisTech, which brings together 10 renowned "Grandes Écoles" recognized for their academic excellence. The local engineers are some of the most sought after thanks to the high-quality education they receive, which combines creativity, discipline, and empirical thinking.


Business & Management Skills

A Large Talent Pool to Accommodate Companies of All Sizes

Paris Region currently has 72,000 students specializing in Business & Management and being trained in world-renowned Business schools. INSEAD, for instance, offers the world's #1 global MBA program and #3 Executive MBA program, where graduates speak a minimum of 3 languages. Other famous degrees in Management include HEC, which is ranked as Europe's #1 Business School and has some of the best Executive MBA & global MBA programs in the world. Meanwhile ESSEC and ESCP Europe offer some of the best Master's in Management.
While students gain exceptional business and management skills, they prepare themselves to hit the job market as soon as they graduate and become talented entrepreneurs and business leaders. As a matter of fact, these schools, and the French education system in general, put a strong emphasis on practical experience through compulsory internships. Students thus benefit from work experience in companies ranging from early-stage start-ups to medium sized and large international groups with their cross-functional and international modes of operation.
 
A Multitalented, Multilingual Metropolis

The Region also has many bilingual programs, and some are taught entirely in English. Some of the schools that offer these programs include Sciences Po, Université Paris-Saclay, Panthéon-Sorbonne, Université de Paris, Paris-XI, AUP, and ULIP. For younger students, Paris Region offers a growing number of international and bilingual education opportunities with the possibility to practice multiple languages starting from elementary school and receive high school diplomas that are recognized internationally.   


A Workforce Ready to Hit the Job Market

Scholars in Several Fields

Home to some of the best ranked schools in the world, Paris Region is a reservoir of exceptional researchers and academics. The Region's overall level of education is high (42.5% of adult residents have at least a bachelor's degree) and will progress further considering the 716,750 students currently pursuing higher education.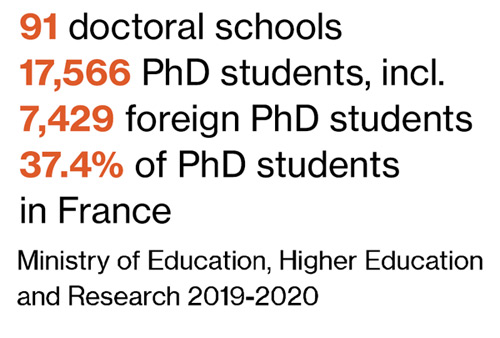 While there are many outstanding schools specializing in business and engineering, the Region also inspires creative minds through its many prestigious art schools. As an international fashion capital, Paris Region has some of the world's finest fashion schools. For instance, IFM is a "Grande École" offering the some of the world's best Master's in Fashion Management and Art Direction/Communication.
Because half of all film productions in France take place in Paris Region, there are many topnotch local schools to foster future producers, writers, and artists. Gobelins, for instance, is ranked the #1 best international animation school in the world. There is also La Fémis which is one of the most famous cinema and filmmaking schools.


Putting Theory into Practice

On top of studying in world-renowned institutions, students in Paris Region additionally receive practical, hands-on training. This is due to the French educational system's emphasis on graduate internships with established companies. As students diversify their CVs and gain practical experience, companies benefit from eager, fresh talent and potential future employees.
With world-class educational structures that foster innovative and international talents, Paris Region acts as an ideal reservoir for businesses to build their teams.
 
To find out more about how to recruit in Paris Region, download our guide full of practical information on recruiting Talents for your business.
Choose Paris Experts
Olivier Allegret
Head of Client Solutions
Expert