Paris Region: A Global Tech Hub for Startups & Scaleups
Innovation thrives in Paris Region. The first two weeks of 2022 introduced 3 unicorns, more than any other country worldwide. The Region's Global Tech Hub hosts more than 8,000 startups and the world's largest startup campus, Station F. Home to major tech events such as VivaTech and ChangeNow, Paris Region simultaneously serves as the international tech community's meeting place for making global connections and finding the right partners. Thanks to several grants and funding packages, companies will find extensive support throughout the different stages of their market development. A perfect launchpad, Paris Region's Global Tech Hub is buzzing with a multitude of innovative solutions for startups and scaleups.
 
Focus on Paris Region's Tech Community
In 2019 France set a target of 25 unicorns by 2025. As of early 2022, France had 26 unicorns. The year 2021 alone brought in 12 unicorns – a truly monumental year with Venture Capital funding rounds reaching a total of 11.5 Bn euros, an increase of 115% in 2020. This momentum in the French tech ecosystem hasn't stopped as demonstrated in the table below.
2022 Ranking of highest startup funding rounds in France
| Rank | Startup | Amount | Series | Date |
| --- | --- | --- | --- | --- |
| 1 | Doctolib* | 500 M€ | F | 15/03/2022 |
| 2 | Qonto* | 486 M€ | D | 11/01/2022 |
| 3 | Back Market* | 450 M€ | E | 11/01/2022 |
| 4 | Exotec | 295 M€ | D | 17/01/2022 |
| 5 | Payfit* | 254 M€ | E | 05/01/2022 |
| 6 | Ankorstore* | 250 M€ | C | 11/01/2022 |
| 7 | Deepki* | 150 M€ | C | 30/03/2022 |
| 8 | Akeneo | 122 M€ | D | 15/03/2022 |
| 9 | Alma* | 115 M€ | C | 10/01/2022 |
| 10 | Spendesk* | 114 M€ | C | 18/01/2022 |
| 11 | Intercloud* | 100 M€ | D | 15/02/2022 |
| 12 | +Simple* | 90 M€ | C | 10/03/2022 |
| 13 | Padoa* | 53 M€ | Venture Fund | 02/02/2022 |
| 14 | Weglot* | 45 M€ | A | 24/03/2022 |
| 15 | Snpashiift* | 41,25 M€ | A | 03/02/2022 |
*Paris Region based startups

Covering everything from Deeptech, to Fintech and Healthtech, the Tech sector in Paris Region is fast-growing. Thanks to considerable investments, tech businesses can now benefit from quality infrastructure and data centers to scale up. For instance, Paris Tech companies have access to 8 Regional Business Clusters and 1200 R&D Centers. A much-needed space for the Tech community.
Major Tech Events in Paris
Paris Region's startup community is so big that major events in Paris Region have multiplied. These events allow international startups to connect with diverse members, grow their network, find new business opportunities, develop their services, and plug into one of the most technologically advanced countries. Here are some events that will help entrepreneurs and the international Tech community connect with the right people:
A Global Hub for Entrepreneurs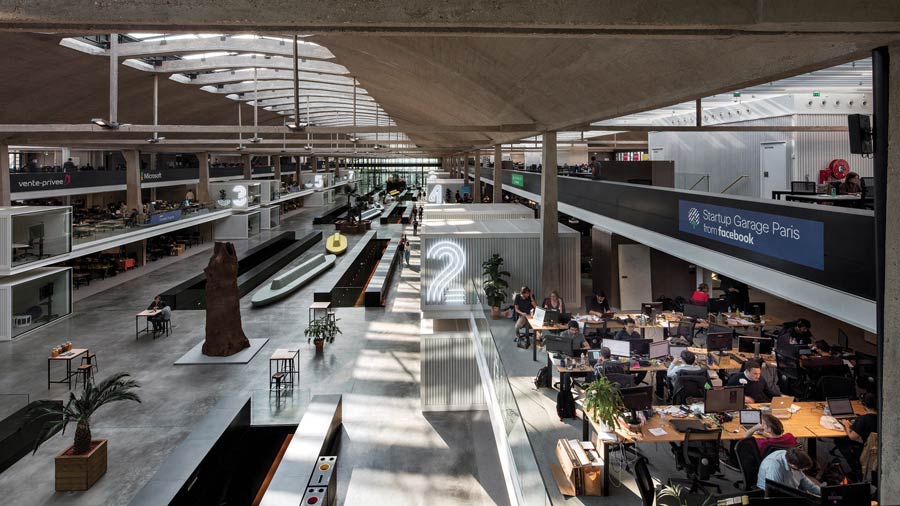 Paris Region's tech hub is closely linked to the internationally renowned startup Campus, Station F, a 50,000m2 campus created to encourage startup activity in the city. It now houses 1000 early-stage startups, 30 startup programs, 35 public administrations, 150 VCs, 4 mentorship offices, and hosts more than 600 events per year. Station F is the right fit for entrepreneurs looking for support in setting up a company in Paris. It provides workspaces, and resources to help companies find customers, and recruit employees and even provides an in-house prototyping lab.
The acceleration power present in Paris Region has been acknowledged by the likes of Facebook, Google, and Fujitsu, who have already set up open research centers for their A.I. activities. Others, such as IBM, have invested in job training in A.I, blockchain, and other cloud computing skills. Explaining the reasons behind Facebook's decision to open its A.I. Center in Paris, Yann LeCun, director of F.A.I.R (Facebook AI Research), stated: 
Another highlight of Paris Region's Tech scene is the Paris-Saclay campus, which hosts the continent's largest concentration of researchers and accounts for: 
360 research labs 
15% of French R&D 
45,000 jobs in research, design & innovation 
9 Grandes Ecoles (equivalent to Ivy League Universities in the U.S.) 
A Region Boasting the Best Tech Talent
Investors routinely cite the Region's following assets: global innovation, a thriving startup scene, and highly skilled talents as the main reasons for expanding their business to Paris Region. As a matter of fact, setting up in the region grants companies access to more than 500 million European consumers, 12 million inhabitants, and 50 million tourists per year. An opportunity to reach a variety of people and sectors.
Paris Region's success can be attributed to distinguished universities which breed some of the best researchers in the world labor market. Globally renowned state-funded research entities such as CEA List, INRIA, LIP6, and CNRS lead the way in terms of research. In fact, Paris Region is ranked the number one region in the EU for the number of its scientists and engineers (632,000) and researchers in Science and Technology (2,656,500). It is no wonder international startups flock to Paris Region to build their teams and benefit from such knowledge. 
 
Need more info on incubators and accelerators in Paris Region? Interested in recruiting Tech Talents or finding out how to set up your business in Paris Region? Our range of guides can help you through every stage of your business journey. Find the right one for you here. 

If you want to keep abreast of business opportunities, don't miss out and subscribe to our newsletters here.