Paris Region's Startups Have a Strategy: "Resilient Growth"
Local and international start-ups in Paris Region continue to thrive despite the Covid-19 crisis. The region's start-up ecosystem, with its numerous incubators and accelerators, has grown and new start-ups are emerging every day. In addition, investors are back in full swing providing funds amounting to more than $US50 million to some promising startups and scale-ups. In this article, we'll tell you why Paris Region's startups have the wind in their sails.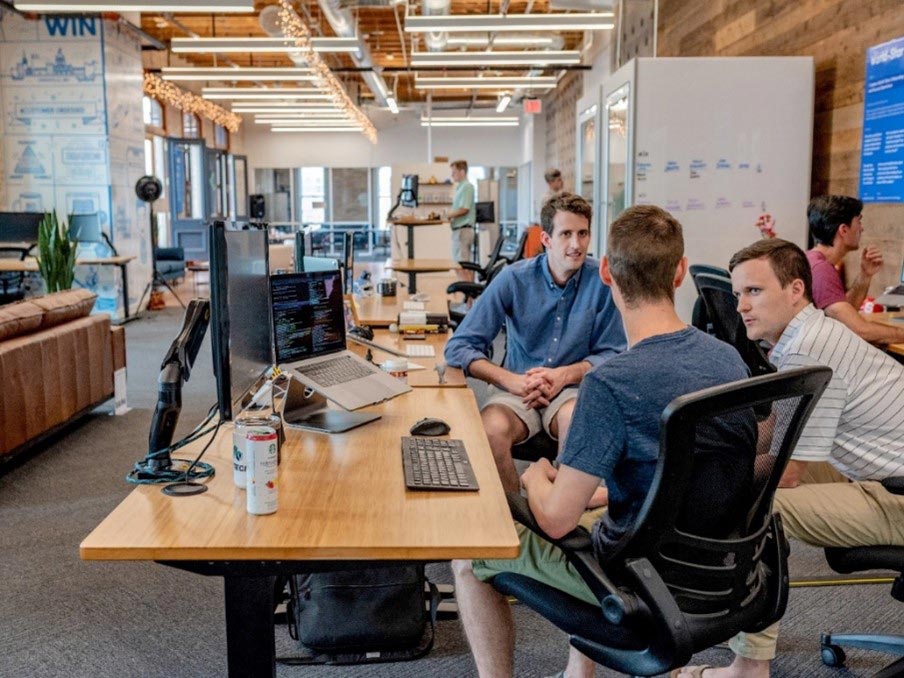 On the start-up side, the entrepreneurial spirit is still unwavering
Has the Covid-19 crisis influenced the entrepreneurial spirit of Paris Region's entrepreneurs? Not at all. According to a survey conducted by OpinionWay for LVMH in June 2020, 61% of start-up managers believe that the desire to be entrepreneurial is now stronger than ever before. It could even be a fresh start for these managers, who agree that the crisis has been a full-blown test for the digital sector.
Revitalize, yes, but in which direction?
To continue innovation during the crisis, start-ups benefit from a dual strength: their responsiveness and their resilience, enabled by their creativity as well as supportive eco-systems in Paris Region. According to the aforementioned survey, 88% of start-ups believe that the Covid-19 lockdown has enabled new start-ups to emerge. The most promising industries were spotted in the fields of :
Health (for 72% of the respondents)
E-commerce (62%)
FoodTech (31%)
BioTech (29%)
FinTech (23%)
The latest project that rallied many startups in Paris Region working in the field of new innovative mobility solutions is the 'Urban Air Mobility' project led by Choose Paris Region, RATP Group and Aéroports de Paris. The prospect of the 2024 Olympic and Paralympic Games has indeed provided an exceptional opportunity to involve and promote an entire industry that is respectful of the environment, thus making Paris Region a leader in the global market of the Urban Air Mobility offerings. A worldwide call for international applications was launched for all areas of urban air mobility - Vehicle development, Urban infrastructure, Operations, Airspace integration and Acceptability.
Structures present to encourage innovation
The ecosystem of start-ups in Paris Region is now one of the most active in the world:
216 incubators and accelerators
171 coworking spaces
87 fab labs
 
Station F: the world's largest start-up campus
Like any incubator, Station F's aim is to transform an innovative idea into a successful business by offering solutions that meet the needs of young structures (network, financing, premises, expertise, advice, etc.).
51,000 sq. m
30+ start-up programs
More than 1,000 start-ups, such as Actiondesk, Foodvisor and FairJungle
Investment funds: Partech, Kerala Ventures, Salesforce Ventures
Mentors: Google, OVH, AWS and more

"Paris is a very welcoming place for start-ups. Coming from the Bay area, it's exciting for me to see such an optimistic spirit around innovation and a young generation highly motivated to succeed in the start-up world." - Zornita Stefanova, CEO, BSPK


On the investors' side, the passion continues to thrive
After the gloomy months of lockdown, the fundraising efforts of start-ups in Paris Region are back in full force with several high-profile operations.
In June 2020, Owkin, a start-up that uses machine learning technologies applied to medical research, raised $70 million in funds. Several investors have joined the project, such as Mubadala Capital, alongside Bpifrance. Contentsquare acquired $190 million worth of funding in May 2020. As a world leader in experience analytics, this platform enables brands to create the best digital experiences on their websites, mobile phones and apps. Investors include Bpifrance, Canaan, Eurazeo Growth and GPE Hermes.
The French champion of refurbished technology products, Back Market, raised €110 million in May 2020. It benefited from fundraising led by the investment bank Goldman Sachs and the French funds Aglaé Ventures and Eurazeo Growth. Aircall, a pioneer in cloud calling for businesses, received funds of €60.2 million in May 2020. DTCP and Adam Street are among its investors. Long-term investors eFounders, Draper Esprit, Balderton and NextWorld have also renewed their confidence in the company. Likewise, Qonto obtained financing of €104 million in January 2020. A French online bank for SMEs, Qonto's shareholders include the Chinese tech giant Tencent and the DST Global fund, which holds stakes in Facebook, Airbnb and Spotify.
With high-profile investments continuing to flow in despite the Covid-19 crisis, companies in Paris Region flourish, both financially and innovation-wise, as a result of their creativity and swift adaptability facilitated by encouraging start-up ecosystems in Paris Region.  

"France is an extraordinary place for entrepreneurship in highly innovative sectors. For the same level of capital injected, an investment in France on R&D is three to four times more efficient than in Silicon Valley." - Rand Hindi, CEO of the start-up Snips (AI)
If you want to find out more about the start-up ecosystem in Paris Region, please get in touch with our experts! They'll be more than happy to answer any questions you may have