Datadog's Expansion to Paris Region
The spread of the coronavirus triggered a shift in the way we all live, work, travel and socialize. Of all changes, the most radical one has probably been the switch to "remote working" as companies were forced to shut their doors and employees are encouraged to work from home. Such a quick change forced companies into paying special attention to security monitoring, cloud supervision and early cyber-threat detection. We had the opportunity to ask Olivier Pomel, CEO of Datadog, a monitoring and security platform for cloud applications, his take on the company's expansion to Paris Region, and the impact COVID-19 on Datadog's business.
Please tell us a few words about Datadog.
Datadog is a monitoring and security platform for cloud applications. We bring together data from servers, containers, databases, and third-party services to make your stack entirely observable. These capabilities help DevOps and security teams avoid not only downtime or bad user experience, but also be more agile, innovate faster and generate more business. Datadog was founded in 2010 and is headquartered in New York. We currently have 1,800+ employees across 30+ locations around the world.
What led you to expand to the Paris Region?
Our Paris center was launched in 2015 and we now have a total of 250+ employees focused on R&D as well as serving our French customers. Our Paris center has grown rapidly, doubling in size every year, and we expect to continue investing at a rapid pace in the future.
What has been the impact of Covid-19 (good and bad) on your business?
In response to the COVID-19 pandemic, we are focused on ensuring the safety of our employees, continuing to best serve our customers, and investing in our platform. This crisis has demonstrated the need to be digital-first and agile, has underscored the importance of observability into cloud environments, and reaffirmed the long-term opportunity for Datadog.

What is your business expansion strategy for France? (Is France going to be your gateway to a broader expansion in Europe?)
Paris is home to our second R&D center, after New York. The team currently consists of 250+ engineers, SREs, Product Managers, Software Engineers and Developers. As mentioned above, we intend on investing heavily in growing this team in the near future.
On our EMEA expansion plan, we are present in several countries including the UK, Ireland, Germany, The Netherlands, Italy, Spain, Switzerland and the Nordics. Moving forward, our European expansion plan is to increase our sales team coverage.
What are your recruitment plans and how would you qualify the workforce/talents in the Paris Region?
The majority of hires we're making in Paris are researchers, designers and engineers, but we're also building up our local sales and services teams to best support our French customer base.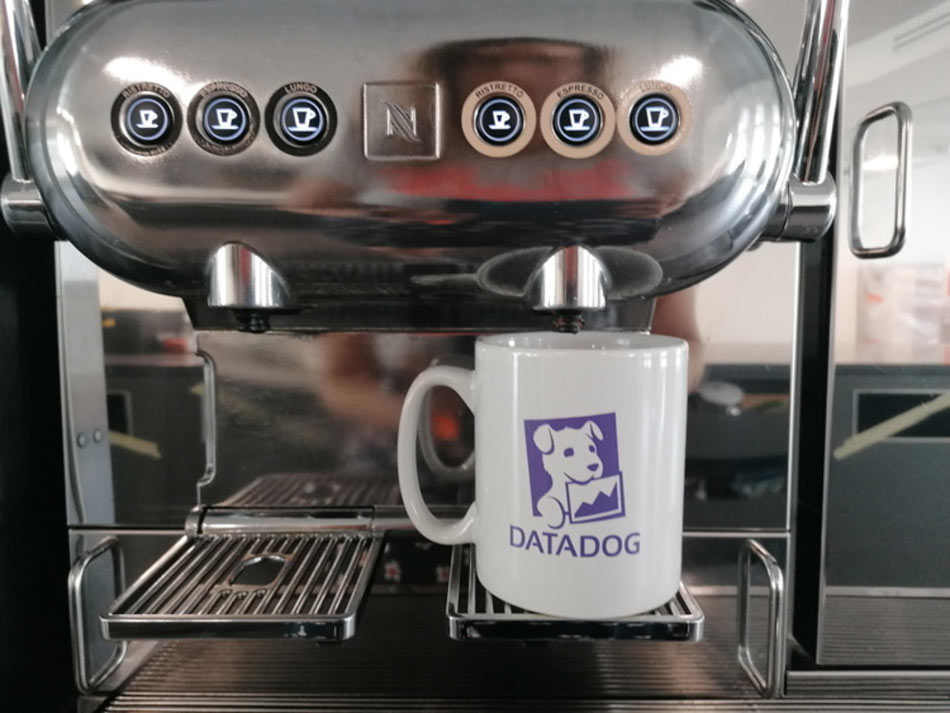 Tell us about your long term perspectives
The market is in the early stages of a massive IT re-platforming to the cloud. Organizations globally and within all industries are transforming to become digitally-driven businesses, and need visibility into their modern environments to ensure success along that journey and beyond.
Datadog is very well positioned for these long-term secular trends, as the leading integrated and cloud-native observability platform. As our strong track record of product development suggests, including our recent entrance into security, we plan for continued innovation to add value to companies' digital operations and everything that has to do with building and maintaining applications in hybrid cloud environments.
Home to major cybersecurity institutions, Choose Paris region is a launchpad for businesses developing solutions in cyber, cloud and computing technologies. Choose Paris Region supports businesses, such as Datadog, to accelerate their business by connecting them to the right partners, grating them visibility, introducing them to large corporations, and ensuring they benefit from regional and national incentives for R&D intensive companies.
Choose Paris Experts
Thomas Fauvel
Deep Tech
Expert