Lycée Franco-Allemand in Buc: Bridging French and German Cultures
Nestled in the picturesque western suburbs of Paris, the Lycée Franco-Allemand school in Buc stands as a beacon of international education, where French, German, and British cultures converge, creating a unique and enriching learning environment. Established in 1975, this institution, born out of the historic Élysée Treaty, has evolved into a dynamic hub for students seeking bilingualism and biculturalism. With a commitment to nurturing young minds from primary to high school and as a public and tuition-free school, the Lycée Franco-Allemand distinguishes itself as an outstanding example of how diverse cultures can harmoniously coexist and flourish within a quality-oriented academic setting.
Marie-Alix MORLET, the Headmistress of the Lycée Franco-Allemand school, introduces us to the unique features of this international institution, where, German, English, and French cultures mingle daily.

Can you tell us about the history of the Lycée Franco-Allemand in Buc?
The Lycée Franco-Allemand originates in the Élysée Treaty signed on January 22, 1963, between France and Germany. The school was established in 1975 and obtained its own premises in Buc, a quiet and green city on the western outskirts of Paris, in 1981. Its facilities were completely renovated and expanded to accommodate students in the spring of 2022.
Since 2005, the school has also housed a British International Section for students in high school – for children between the ages of 15 and 18, which prepares them for the International French Baccalaureate (BFI). The school is part of a network of 5 Lycées Franco-Allemand in Europe, along with Fribourg, Saarbrücken, Hamburg, and Strasbourg.

What makes this school unique (in terms of curricula, quality of the tuition, etc.)?
The Lycée Franco-Allemand (LFA) is a public and tuition-free institution. It is also a school complex that, in 2023, welcomes over 1,100 students spanning from primary school to high school, gathering young individuals aged 6 to 18 within a unique and diverse structure.
The primary goal of LFA is to enable students to achieve a level of language proficiency close to bilingualism. Throughout primary and middle school, French and German students explore certain subjects through integrated classes taught in either French or German, supplemented by language courses from their partner country. Each teacher instructs in their native language and with the pedagogical approach specific to their country of origin. This exposes students to a cultural diversity that helps them develop adaptability and an open-minded outlook.
Simultaneously, all students begin studying English from middle school (6ème). Projects, school trips, celebrations, and festivities from both traditions contribute equally to fostering a bi-cultural spirit. The school aims to be a place of learning to live together and awakening to European citizenship. It provides a robust education due to the unique schedules and programs dedicated to each discipline, representing a rich synthesis of the educational systems of both countries.
The British International Section, starting from high school (2nd), shares similar goals in terms of bilingualism and biculturalism while adhering to national programs.

What is the profile or background of the students who enroll at this school? What is the admission process like?
Students within the institution are predominantly German, French, citizens of English-speaking countries, or dual nationals, just like their teachers. Many nationalities are represented, drawn by the institution's decidedly European cultural openness. This linguistic and cultural tapestry fosters mutual enrichment and catalyzes the development of meaningful partnerships.
Our student recruitment process is designed to accommodate various levels, with specific criteria tailored to each section's age group:
Franco-German Program: To enroll in the primary school of the Franco-German school (CP), prospective pupils, whether French or German-speaking, are required to apply and undergo an interview. Additionally, an examination is mandatory for those seeking entry into:
The French section: available in CM2, 6ème, and 2nd
The German section: open from VKL (CM2) to 2nd
British Program: For the British program, aspiring students can gain admission to either the 2nd or 1st through a comprehensive examination.

Does the school accept non-French-speaking students? What's in place for them?
Students who are not proficient in French and may face challenges with the French component of the entrance tests are classified as "invited" students for the academic year. These students receive additional French language courses.
At the end of the school year, if they have achieved sufficient proficiency in French to advance to the next grade, they are permanently integrated into the Lycée Franco-Allemand school. If not, the orientation plan is collaboratively reevaluated with the families. Upon arrival, they must have a perfect command of the German language for the Franco-German section and the English language for the British section.

What kind of support or resources are available to expatriate families who enroll their children in the school?
Two parent-teacher associations operate at Lycée Franco-Allemand, contributing to the support and welcoming of families:
ALFA (the Lycée Franco-Allemand School Friendship Association) for the Franco-German program and PSAB (parents' Association of the International English section) for the British program. These associations organize numerous significant and festive events such as the Christmas Market, orientation forums, and diploma award ceremonies.

What diplomas are awarded by the school? What do your students do once they graduate?
The brevet with the "Franco-German option" obtained at the end of middle school (3ème) and the Franco-German Baccalaureate at the end of high school (Terminale), recognized in both countries, marks the culmination of this unique academic journey. The baccalaureate is organized into different tracks (L, ES, S mathematics/physics, S biology/chemistry), established in middle school (from 2nd).
For the British program, the International French Baccalaureate (BFI) is awarded at the end of the high school (Terminale). This diploma provides bilingual, trilingual, and quadrilingual courses and is gaining increasing recognition from higher education systems in partner countries.
Both baccalaureates attest, at a minimum, a C1 level proficiency in the chosen foreign language - the "partner language" that defines each program (be it French, German, or English).

What have been the biggest accomplishments of the Lycée Franco-Allemand in the last year?
The Lycée Franco-Allemand moved to exceptional architectural premises in 2022, providing students with a high-quality living space.
Recognized as a UNESCO-associated school, the campus annually undertakes numerous projects centered around thematic topics. Heritage took the spotlight in 2022/2023; in 2023/2024, students will focus on water. Consequently, a variety of conferences and activities are offered to students based on their grade level.
In January 2023, the Lycée Franco-Allemand celebrated the 60th anniversary of the Elysée Treaty by actively participating in national official ceremonies at prestigious locations such as the Sorbonne, the National Assembly, and the Arc de Triomphe. This allowed students to engage in unique experiences tied to the development of their citizenship.
Moreover, students frequently take part in various bi-national commemorations, receive invitations from prominent partners such as embassies, armed forces, and ministries, and annually contribute to the European Parliament of Students.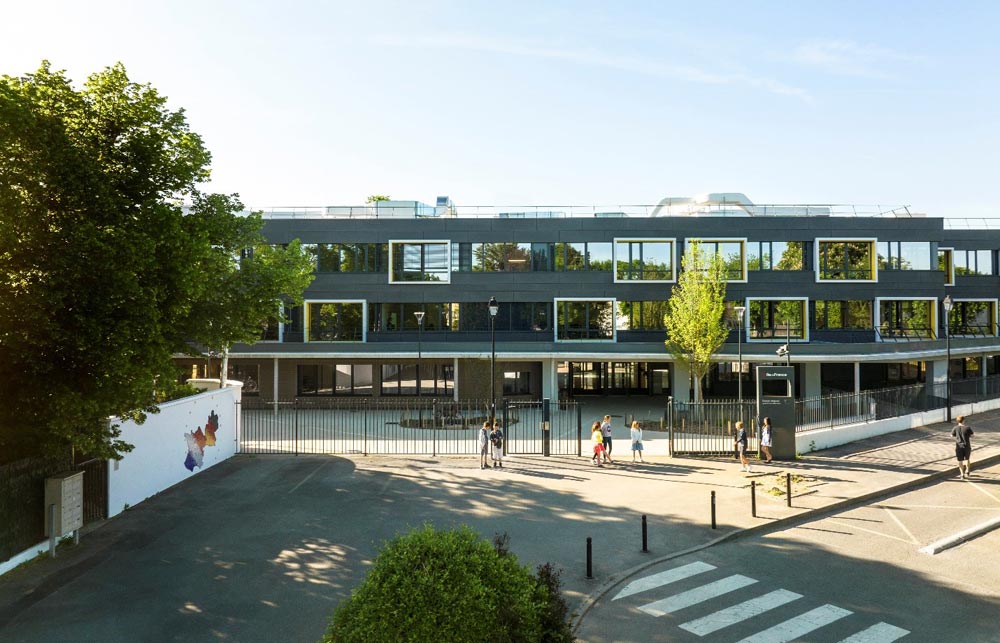 If you need guidance regarding international education in Paris Region, consult our online schooling guide or contact us. For more tips on life in Paris Region, please browse through our Living in Paris Region page or download our Settle In guidebook.
All copyrights reserved to @David Matthiessen
Choose Paris Experts
Olivier Allegret
Head of Client Solutions
Expert