American School of Paris: A Top-Class International Education
A flagship destination for tourists and investors, Paris Region is home to a large and ever-growing American community of over 14,000 people. Expats living and working in American companies are major contributors to the Region's dynamic business ecosystem and have access to top-tier local education. In fact, Paris Region provides many international and bilingual schools so students can benefit from both French and American culture.
As Paris Region's leading international establishment, the American School of Paris offers its students top-of-the-line education with a unique French and American blend. In this interview, we spoke with Caroline MacDonald, Development Leader at the American School of Paris, who told us about the values of this historical institution, the commitment to its students, and their objectives for a more sustainable future.
Tell us about the history of your school and your role in the organization?
This year, our school is celebrating its 75th birthday. Founded in 1946, the American School of Paris was set up to accommodate children whose parents were employed by foreign companies, mainly American at that time, and were sent to help re-build France at the end of the Second World War. We have been serving the international community in Paris Region ever since. This is our "raison d'être". Today our school welcomes around 800 students from the age of 3 to 18, representing over 60 nationalities. Our curriculum is international, American, and based on a holistic approach to education focused on both academic and personal success.
My role is to is to lead the development of our school, which is a non-profit organization ("Association Loi 1901"), by ensuring a regular flow of new students who come to Paris from around the world. My position also requires me to manage the philanthropic support for our school and the development of our alumni network. We are proud to participate in developing this Region by offering an extremely attractive option for families seeking a world-class, anglophone, international education. I am in contact on an ongoing basis with relocation and corporate international mobility partners to discuss trends, and ensure we anticipate the needs of their client families. Our multinational population helps boost France's reputation worldwide and our global network of over 18,000 alumni play a key role in expanding our reach and the opportunities for our students.
What are the main features that make this school unique?
The American School of Paris is accredited by the Council of International Schools and the Middle States Association. Although our classes are small, the wide range of subjects make our curriculum rigorous, challenging, and prepares students as they navigate an ever-changing world. Because we are an independent school, we have an innovative and flexible approach that can support our students' strengths and develop pathways to success for everyone. Most of our teachers hold a master's degree or a higher level and they are all passionate about what they do. American School of Paris is a college-preparatory school and 90% of our seniors take part in either Advanced Placement and/or International Baccalaureate classes. This increases their chances to enter top universities around the world.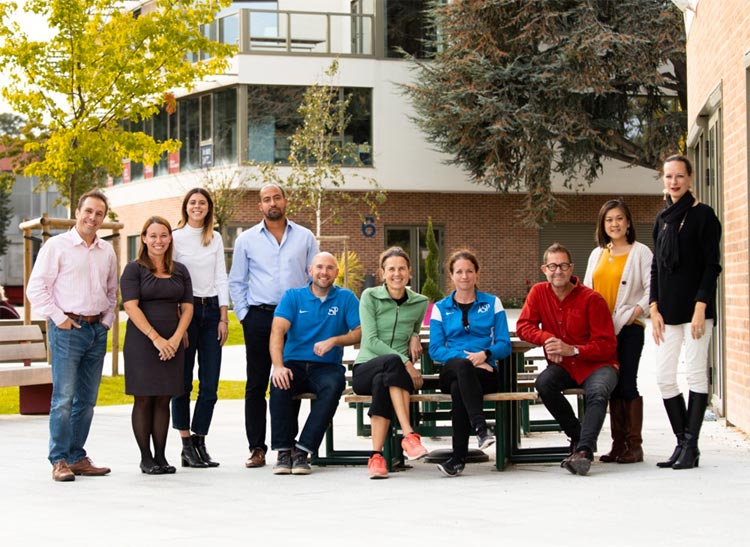 Could you describe in a few words the blend of American and French systems and the mentality in this school?
Our mission is simple: to inspire and prepare students to achieve personal and academic excellence. One might say this is a blend of the best of both French and American systems. Our French side brings out our love for knowledge, classical education and high academic standards, qualities that we consider important to become a well-rounded person. Our American side gives us an innovative and creative mindset, where we aim to do our best. All of this is possible thanks to our teachers who encourage the efforts of the students by celebrating both individual and collective success throughout their journey.
What makes American School of Paris an ideal school for the children of an expatriate working in Paris Region?
For parents relocating abroad, their children's education often becomes a priority. Finding the right school can play a crucial role in the success of an expatriation and the presence of a school like ours adds interest to the Region. Each year we welcome over sixty different nationalities and foreign languages to our warm community. Our teachers are experts in helping new students fit in their classes, because they have a very deep understanding of international mobility and its impact on young people in all stages of their formative years. Our Parent Faculty Association (PFA) offers a detailed program to welcome new students and their parents and to help them feel at ease in their new environment. Our school program is funded on international standards and is easily transferrable to and from other international schools all over the world. We are proud of our key role in Paris Region as supporters of the families who move here.
Could you tell us what the main values of the American School of Paris are?
The American School of Paris is a family-oriented community. Our mission is to inspire and prepare each student to achieve personal and academic excellence as a committed global citizen by providing a challenging, innovative programs within a positive environment. Our beliefs and values are people-centric: We believe that every person has equal worth. Honesty and integrity are central to all we do, and individuals are responsible for their choices and actions. Great schools nurture passion, curiosity, creativity, self-expression, and joy. We prepare our students to go beyond and strive to be global changemakers, to make a real difference in the world.
Approximately, how many American students do you host each year?
Every year we welcome approximately 200 to 250 new students from around the world (between 25 and 30% of our population). Our American students represent roughly 30% of our total intake. A full 55% of our faculty are US citizens.
What have been the biggest accomplishments for American School of Paris in the last year?
Covid has presented our school with possibly one of the biggest challenges we have faced recently, and we take huge pride in the capacity of our faculty and staff to deliver an exceptional learning experience throughout these times. Our International Baccalaureate exam results in 2021 were among the highest in the Region. We were invited by the OECD Future of Education 2030 project to join their hub of innovative schools. Our Lower School Director was honored with the National Distinguished Principal Award. More recently our sports teams have competed successfully at the international level and our music students were awarded prizes in the Association of Music for International Schools competition. Perhaps the most evident and meaningful accomplishment is that, despite the masks and the safety restrictions, our students come to school daily with a smile on their face and an unquenchable thirst for learning.
What do your students do once they graduate from American School of Paris?
Our students go on to attend top universities around the world (in the USA, the UK, Europe, as well as India, Korea, South Africa…) and our 18,000 strong alumni network spans the globe. Our students become changemakers and leaders in almost all fields: STEM, finance, industry, engineering, education, entertainment and more. What is also remarkable is the connection our alumni maintain with the school, such as mentoring current students, visiting classrooms to share their experience, and participating in our alumni network events and exchanges. They often credit the incredible education and opportunities they have received during their Paris years at our school as the foundation for their success. We are proud of our alumni community and nurture our relationships with each of our former students.

In what way do the students at American School of Paris embody the cosmopolitan feel of Paris Region?
At American School of Paris, we value our students' opinions, they have a unique style and confidence. They are eager to make new experiences and to learn more about culture, a mindset that is in line with Paris Region. In fact, the faces at our school reflect its population: multicultural, early adopters and desirous be involved. Our students are curious, compassionate, and conscious of their place in the world as global citizens. Plus, they are not afraid speak up when they feel something needs changing! We are very proud of them.
Do you teach the students to be more environmentally conscious? Is sustainability a value taught to your students?
Yes, one of our beliefs is our shared responsibility for the environment which is part of our curriculum throughout the students' journey. Our focus is to teach our students to benefit responsibly from the planet from an early age through regular trips to the forest, to Saint-Cloud Park or to our expansive, secure, green campus. We explore with them the topic of global warming and what changes we could implement to help reduce its negative impact on the planet.
We invited some high school students to take part in the equipment department committee to present a project to install solar panels on some of our buildings. Another group of students has implemented a project around waste recycling and each year our students participate in and are inspired by the ChangeNOW Summit which explores and proposes solutions to societal and environmental problems.

How would you describe Paris Region in 3 words?
Astonishingly beautiful
Superb culture
Perfectly diverse
Choose Paris Experts
Cécile Jupin
Investment Projects N. America
Expert