Feb. 25 2021
Webinar - "Empowering Hydrogen in Paris Region"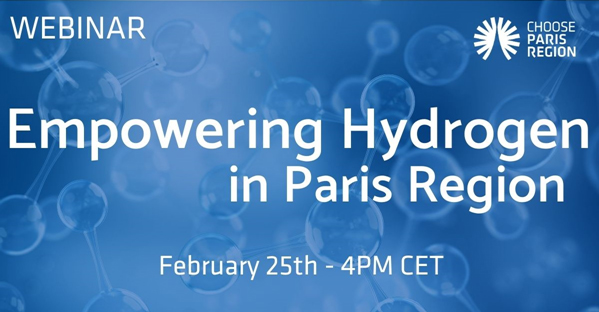 The 'greening' of some industries cannot be achieved directly by electricity or heat generated from renewable energy, therefore, green hydrogen is seen as a pivotal energy source to bridge the gap of hard to decarbonize sectors, such as, the transportation industries (marine, rail and road transportation sectors), and heavy industries (steel, fertilizer and aluminium).
Accordingly, France has announced its plans to ramp up its production of green hydrogen to 40 GW by 2030 to reach the target of carbon neutrality by 2050 in all industries with several billion euros in investment, territorial support and R&D Programs.
Choose Paris Region helps open up a wide range of opportunities for companies looking to cooperate with French partners, become involved in demonstration projects, and expand through direct investment.
This webinar will:
Present a briefing on the French National Hydrogen Strategy
Illustrate the latest market developments
Highlight opportunities for project development in Paris Region
Provide the next steps to implementation

Our Q&A session will be a friendly forum to ask questions, share challenges and brainstorm on engagement-related issues. The event will be in English, free, and open to all!